Top Best Amusement And Thematic Parks in Istanbul – Part 4
In this article, we will continue with our fourth part of Top Best Amusement And Thematic Parks in Istanbul. You can reach part 1 from here, part 2 from here and the part 3 from here. If you have more questions or want more options, you can ask for help from our Sultanahmet hotel – Sura Hotels – personal. Here is our list for the best amusement and thematic parks in Istanbul.
6- Istanbul Aquarium
What about having a day-off at the underwater with Istanbul Aquarium? If your kid adores the fish you can just take him to this aquarium and help him to have a perfect day. The aquarium is located at Istanbul Florya and open for its visitors every day during week and weekend. It has the title of the biggest thematic aquarium in the world. Istanbul Aquarium is built on 92000 squares in Florya and has lots of social activities besides its gigantic aquarium.
The place is suitable for a family trip. With its state of the art technology and thematic structure, it hosts more than 1500 species and 15.000 living things inside. It is one of the biggest aquariums in the world and the biggest thematic aquarium in the world. It is still attracting thousands of visitors every month.
Diving with the sharks, escape from labyrinth, feeding time of the fishes, 5D cinema or a simulation of helicopter tour are among the activities of Istanbul Aquarium and it is hard to fit all of these in just one day.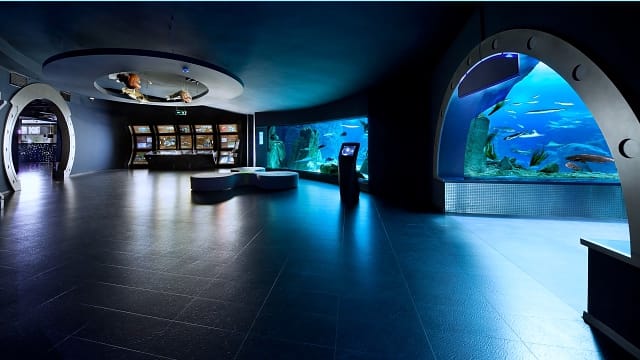 For the entrance fee, adults pay 76.50 Turkish Lira while the students or children between the age 2 and 12 year old and teachers pay 49.50 Turkish Lira and people over 65 years old, disabled people or veteran soldiers enters for 49.50 Turkish Lira too. If you want to take yearly ticket it is 195 Turkish Lira for adults and 160 Turkish Lira for children. Moreover, it is possible to find promotion tickets from their website. The aquarium is open from 10:00 am to 19:00 pm during weekdays and open from 10:00 am to 20:00 pm during weekends.
Where is Istanbul Aquarium, How to Get There? 
In order to reach this record-breaking facility, you can use many ways.
Since it is really close to the Atatürk Airport, it is possible to get there by 5 minutes taxi route.
If you want to take the Metro, you can take 73Y Yenibosna- Akvaryum Bus after getting off at the Yenibosna metro station.
If you are coming with IDO, you can get off at the Bakirköy dock and take one of bus lines among BN1, BN2 or BN3.
For those who would like to use Metrobus, get off at the Beşyol stop and take Florya minibusses to get there.
Except all of those above, you can take free customer services from Laleli, Sirkeci, Taksim or Sultanahmet four times a day.
For private cars, take the Bakirköy or Ataköy Coastal Road and follow the Florya signboards.
Free Customer Services for Aquarium
Sultanahmet: 10:00 – 12:00 and 14:00
Marmaray Sirkeci: 10:10 – 12:10 and 14:10
Taksim: 10:15 – 12:15 and 14:15
Yenikapı Marmaray Station: 10:35 – 12:35 and 14:35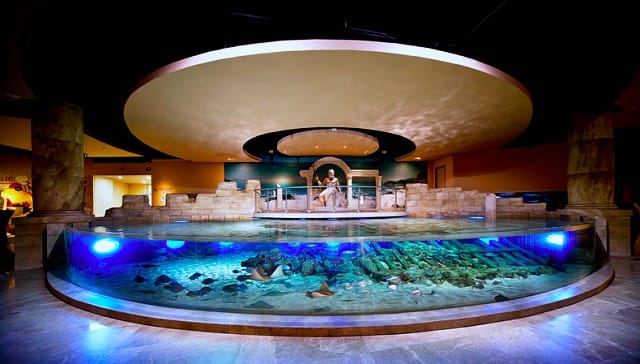 Free Customer Services From Aquarium:
Sultanahmet: 11:45 – 13:45 and 18:00
Marmaray Sirkeci: 11:30 – 13:30 and 17:30
Taksim: 12:00 – 14:00 and 18:00
Yenikapı Marmaray Station: 11:35 – 13:35 and 17:20.
There may be changes about the hours so you can check 444 9 744 for additional information.
Address: Bakirköy, Yeşilköy Halkalı Street, no:93 – Istanbul
7- Bayrampasa Aquarium
Bayrampaşa Aquarium is located inside the Forum Istanbul which is also located in Bayrampaşa and has over 15.000 sea creatures within. In this underwater facility, you can witness special activities from divers and it also offers the opportunity of shopping for its visitors. The aquarium is one of the best amusement and thematic parks in Istanbul built in 2009 by the name of Turkuazoo but later changed to the Bayrampasa Aquarium. It has many "first of its kind" activities and specifications. This aquarium is actually an international one since it was built by the Sea Life, one of the most prominent aquarium brands of the world and it is still attracting many visitors both local and foreigner.
Even though there are more than 15.000 sea creatures, this place is not just about the fishes and water. If you can come up to the fishing hour of sharks, you can watch this unique activity, make a little shopping special for underwater world, watch shows of divers underwater or just dive with the sharks.
Visiting Hours 
The Aquarium is open from 10:00 am to 20:00 pm during weekdays and its closing time extend to the 21:00 pm during Friday and Saturday.
Entrance Fees 
Like many facilities, Bayrampasa Aquarium too has annual or daily tickets. Moreover, you can buy family package too but if you are one of the daily visitors you have to pay 39 Turkish Lira for adults and 29 Turkish Lira for children and students between the age 3 and 14. As it usually is, it is free for the ages between  0 and 3.
And if you happen to buy the tickets from the aquariums official website, you can get a %20 extra discount too.
Where is the Bayrampaşa Sea Life Aquarium and How to Get There? 
In order to reach this facility which is located in Forum Istanbul, there are many diversified ways available.
If you want to take a bus, you can take 32, 32A, 32M or 32T from Eminönü, Beyazıt, Mecidiyeköy or Taksim in just one bus. If you want to come by Metrobus, you should get off at Merter station and pass to the Havaalanı – Yenikapı Metro line then get off again at the Kocatepe Station. After that, you just need to walk 2 minutes.
If you need to use Marmaray and it is close to you, you still have to pass to the Havaalanı – Yenikapı Metro line and get off at the Kocatepe station.
By your private car, it is a short way from the E5 highway and you just have to watch for signboards to Hal  – Otogar then you will just see the Forum İstanbul.
Address: Kocatepe quarter, P Paşa Street. Bayrampaşa / Istanbul
Viaport Amusement Park 
In this amusement park which appeals to the people of all ages, there is a special activity and unit for everyone. While your children are having fun at the bumper cars in Viaport Shopping center and Amusement Park, you can just test your limits in the Rocket. Viaport Amusement Park and Shopping Center is among the biggest facilities of not just Istanbul, but Turkey and hosts hundreds of people every day. It even has a reward for the most fun amusement park of the year too. With its shopping center, it offers different purposes for those who are afraid of extreme units since it has over 188 shops inside and among the biggest wellness centers in the country. During regular climate conditions, the shopping center serves as the open-air.
Inside of the Viaport, you can find a pond, a street, a square and lots of green fields. Moreover, you can get to this amazing place without having any difficulties which are located at the Pendik county of Istanbul.
Inside of this gigantic theme park, you can find an amusement park, cinema, kart racing, special music bands, special activities and many more.
How to Go to the Viaport? 
Viaport is located at the Pendik county of Istanbul and you can take the coastal road or the E5 highway according to your preferences and the traffic. Moreover, you can take the Istanbul – Ankara road without any problem too. For those who wish to come by E5 highway, you have to follow Sabiha Gökçen Airport signboard all the way and when you see the signboard you just turn to the right and enter before the cash-desks of autobahn to the Istanbul – Sultanbeyli exit.  After going a little for a while straight, you will see the signboard and just follow it.
The park is open from 10:00 am to 22:00 pm every day.
Address: Yenişehir quarter, Dedepaşa street, NO:19 Via Port Pendik / Istanbul.