Top Best Amusement And Thematic Parks in Istanbul – Part 3
In this article, we will continue with our third part of Top Best Amusement And Thematic Parks in Istanbul. You can reach part 1 from here, part 2 from here. If you have more questions or want more options, you can ask for help from our Sultanahmet hotel – Sura Hotels – personal. Here are part 3 of best amusement and thematic parks in Istanbul.
4- KidZania
In this amusement and theme park, you can help your child to live a day from real life and do different social activities and jobs. This amusement park looks like just a real city and opened by a Mexican investor at 14 different countries. KidZania helps your children to experience different job experiences and have fun at the same time. Kids can learn about professions while doing works about their jobs in this beautiful gigantic city.
KidZania is opened first in Mexico in 2009 and it is now open in 14 countries and 17 cities around the world. This amusement park is kinda similar to the Kidzmondo but it is more international. It is open for children between the ages of 4 and 14 years old. In this theme park, there are roles more than 90 and units more than 60. Children can get their preferred profession roles that suits them best.
Mexican firm helps children to take responsibilities of these roles and be prepared for the future. Children are being watched closely by professional staff for their roles and acts. Park has a currency which is called KidZoz and children can use that money at every branch of KidZania which are located in 14 different countries around the world. Moreover, children get roles in real brands or companies.
In this miniature city, you can find a hospital, a theatre, a fire authority, an archeology museum, a dentist, a bank, a stadium, and an aviation academy too.
KidZania Professions 
In KidZania, you can choose professions such as paramedic, archeologist, model, dentist, nurse, pilot, construction foreman, police, reporter, optician, fireman, automobile designer, perfumer, Head Cook, Food Engineer and moreover.
About the entrance fee, if you buy the tickets from KidZania website, you can get it discounted compared to the counter desk at the entrance. For the children between the 4 and 14 years old, it is 75.00 Turkish Lira and for adults, it is 30 Turkish Lira, for children between the 2 and 3 years old it is 35.00 Turkish Lira and for children between 0 and 2 years old it is free.
The city is closed on Monday, open between 10:00 am to 15:30 pm on Tuesday, Wednesday and Thursday, open between 10 am to 19 pm on Friday and open between 10 am and 20:00 pm during Saturday and same for the Sunday.
KidZania amusement park is located at Acıbadem.
Address: Akasya Acıbadem Yeni Nesil Yaşam Kompleksi, Ankara Devlet Yolu Haydarpaşa Route 4. kilometer, Çeçen Street. Acıbadem / Üsküdar.
5- Jurassic Land
As you can understand from the name, this theme park is about dinosaurs and the old ages. Even though it is as fun and exciting as the Jurassic World, it doesn't have all that killing and going wild parts. Jurassic Land which is located inside of the Forum İstanbul, takes you to the dinosaurs era and gives you the opportunity to live old times and gigantic dinosaurs.
Inside this park, you can find museums, cafes and shopping centers. This is the first theme park of Turkey with a dinosaur theme and let's check what we can find inside this park.
Jurassic Land Museum 
In Jurassic Land Museum, you can find exact moveable models of 70 dinosaurs, their stories, and 4-dimensional cinema too.
Excavation Site 
This area is designed especially for children inside of the 50 meters area and lets children do archeological digging with the help of the guides.
Toy Shop 
Inside of this toy shop, you can find many dinosaurs themed toys which you can never find at anywhere in the world.
Dinosaur Island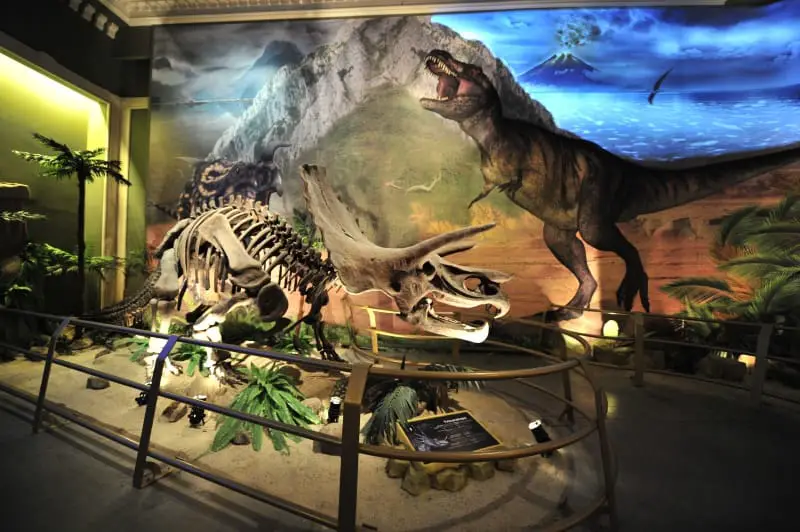 This area is designed for special activities such as birthday parties or other days. With its design and theme, it is definitely an unforgettable event place for children. You can just get in contact with the park management and make a reservation.
Dino Laser Tag and Hunter Laser 
It is suitable for both children and adults. As you can make a guess from its name, it is a laser tag area with dinosaurs and this place will make you experience an outer-world war.
Jura Terrace Cafe and Sports Cafe 
You can just watch a sports match while drinking your coffee after a tiring day.
For the entrance fees, there are only 2 categorizations such as full fare and discounted fare. If you want to enter with full fare, you have to pay 49 Turkish Lira, while it is only 39 Turkish Lira for 2 – 16 years old, teachers, students and 65+ years old people. If you have the MuseCard you can have an extra fifteen percent discount too.
For the Dino Laser Tag and Hunter Laser Tag, you have to get another ticket which is 15 Turkish Lira for Dino Laser Tag and 120 Turkis Lira for Hunter Laser Tag which consists of the price for 10 people group.
Jurassic Land is an amusement park which is open every day of the week from 10:00 am to 22:00 pm and it is located in Istanbul, Bayrampaşa, Forum İstanbul Shopping Center. There are different alternatives in order to get to the Forum Istanbul. If you want to go there by Metro you can just get off at the Kocatepe station from Aksaray – Atatürk Airport Metro Line and have a quick walk.
If you want to go there by bus you can take HT-5 Gaziosmanpaşa- Karadeniz Mahallesi bus or the 32M Mecidiyeköy – Cevatpaşa bus. But if you are determined to go with your private car, you can take the Bayrampaşa – Otogar exit of E5 highway and go to the Kartaltepe – Kocatepe way from the signboards. You just can't miss this gigantic shopping center. If you are coming from TEM highway, take the exit of Hal – Otogar and follow the Otogar signboards till the shopping center.
Address: Kocatepe quarter, Paşa Street, Forum Istanbul AVM SF Blok No:17 Bayrampaşa / Istanbul