We will continue our Galata Bridge article with its part 2. You can read part 1 from here.
After the bridge was built, it was dedicated to the mother of Sultan Mahmud II, Valide Sultan and it was named as "the Valide Bridge", or "New Bridge", "Big Bridge", "New Mosque Bridge", "The Bridge with the Pigeons" and so on. The first person to pass the bridge was Sultan Abdülmecid. Even though there wasn't any bridge fee for the first three days, on 25 October 1845, Naval Ministry ordered to collect fees. It was free for an army, law enforcing personal, fireman and priests who are on duty but it was 5 money of that era for normal citizens. If the citizen is carrying something, it was 10 money and it was an animal carrying something, it was 20 money while the carriages had to pay 100 money. There was another bridge which was built by the German firm MAN AG in 1912 by 350.000 golden lira. The bridge was 466 meters long and 25 meters wide. But during the fire on 16 May 1992, the bridge that was built by the Germans was too damaged to use and it had to be restored. After the restoration, they put it between the Balat and Hasköy. For the place of the burnt bridge, they built the modern and new bridge which is called "Galata Bridge".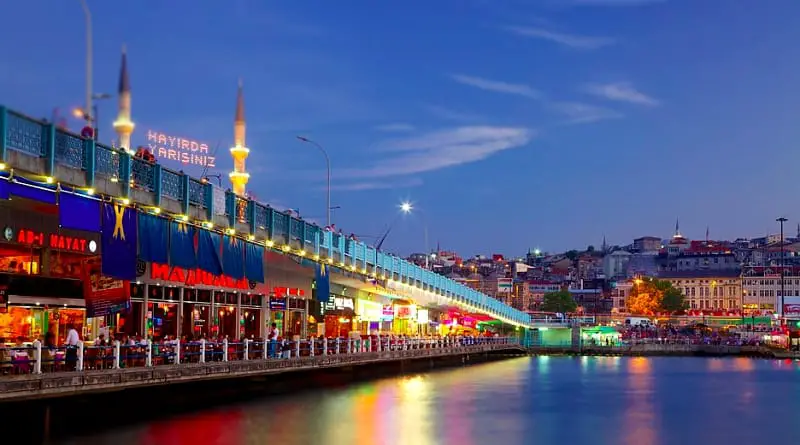 But the bridge that we see today is the fifth Galata bridge and it was built on the north side of the former bridge. This bridge was completed in 1994 and connects the Eminönü with the Karaköy. The fifth Galata Bridge is 490 meters long and its 80 meters part is built in order to be operable for the ships. With the 42 meters width and 3 stripped roads, it also has a pedestrian road too. But since there is a tramway line passing from the bridge, the opening and closing of the bridge was causing a lot problem for the rails. And because of this problem, they have renewed the bridge as the way we see it today.
But the most important thing about the Galata Bridge is its aura and surroundings. In this historical bridge, you can find many best of its kind seafood restaurants and even burger joints at the Karaköy side. Even though there are lots of alcoholic places, you can find non-alcoholic ones too. In a regular day, you can see tonnes of people trying to lure a  fish there. The view of this bridge and seeing all the fishing people can give a man a different kind of a peace.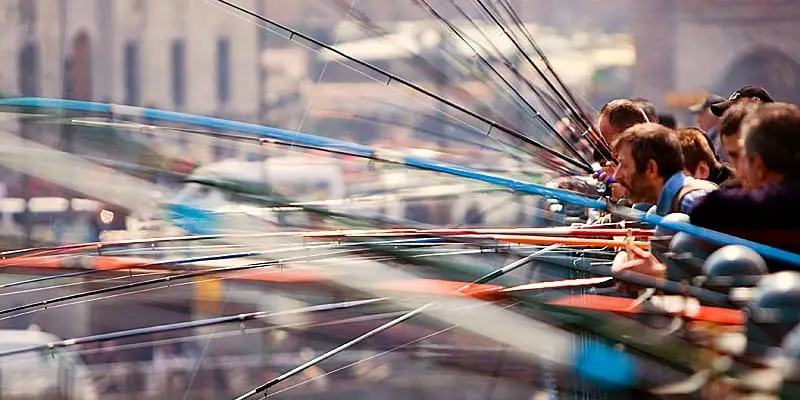 It is easy to get there from our Sultanahmet Hotel, Sura too. Just take a cab or ask our personal for more information!