When you think of the Tourism, there is no doubt that Istanbul is really upfront and advanced. Not just for Turkey, but it is also one of the most important cities of the World. But what is the main reason lying behind one of the most visited cities in the world? Where do all the tourists are going when they arrive at Istanbul? Of course, we cannot write all the historical and touristic places even in months but we have tried to help on that subject in our early articles and we will continue to do so. But what about those bazaars that represent our culture, good taste, preferences? What about the main secret of our cuisine, spices? And the place that you can find all of those written before, the famous Bazaar?
Yes, one of the most prominent places in Istanbul is bazaars. From the Grand Bazaar to the Spice Bazaar, Istanbul has many historical places to be. The Spice Bazaar which is located inside of the Eminönü is the second biggest and covered bazaar of Istanbul. Being built at the second quarter of the 1600s,  it still represents the traces of the past. You can find nearly everything you are looking for in here. From herbalist to a jeweler, woolen draper to a seller of dried nuts and fruits, nearly everything…
But then there is the Grand Bazaar. As you can understand from its name, it is the biggest closed bazaar in Istanbul. The Bazaar, which is located inside of a large area, is the apple of many tourist's eyes. Many European authors and travelers have talked about the Bazaar many times in their works. The Grand Bazaar is so big, there are lots of street signs and signboards for you. Moreover, there are actually streets and avenues inside of the Bazaar. You can find your desired job group by street signs and etc. Even just exploring the bazaar is definitely a fun and interesting experience.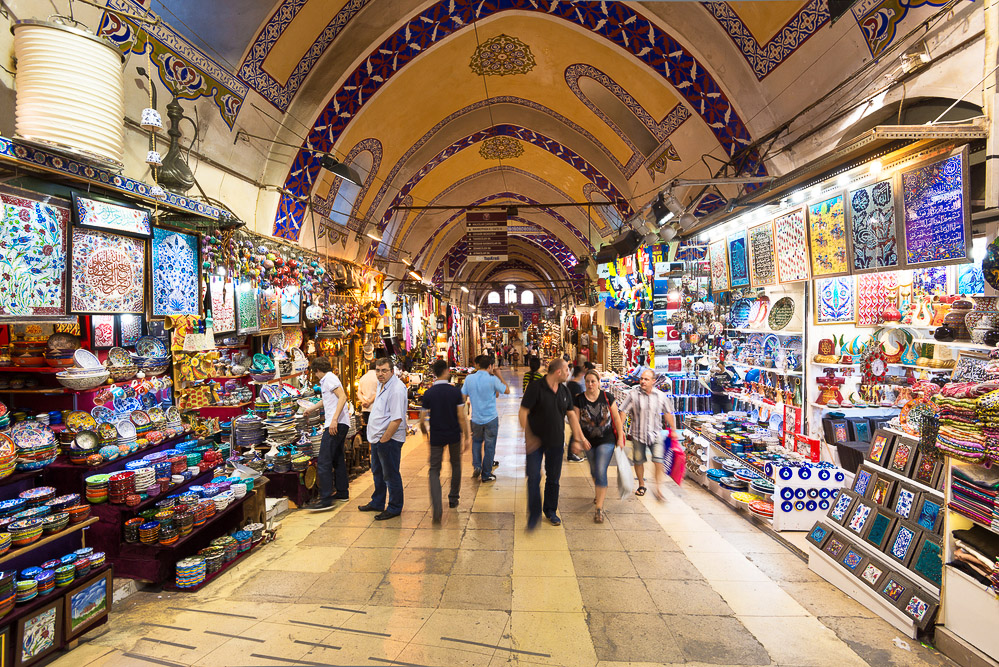 The Grand Bazaar
And then there is something special for the bookworms. Sahaflar Çarşısı or "Used-book Bazaar', is worth seeing even though you are a bookworm or not. Sahaflar Çarşısı which is located between the Grand Bazaar and Bayazıt Mosque, you can find every kind of book you dreamed of. You can just go there for the smell of books.
And then there is the Markiz Passage inside of Taksim, İstiklal Avenue. The Markiz Passage is a must for authentic shopping enthusiasts. It was built around the 1840s and it is still preserving its original architectural design.
Sipahi Bazaar or with its touristic nickname, Arasta Bazaar, is one of the oldest bazaars in Istanbul. Inside of the bazaar, the structure is based on two sides and shops inside of these parallel sides. Inside of the bazaar, you can find old handmade carpets, antique artifacts and different touristic items and a lot more.